Bill Stewart has a been a fisheries biologist in Arizona for 13 years.  He currently manages the USBR Gila River Basin Native Fish Conservation Program where he works with partners to conserve many of the southwest's warm water native fish species.  A significant component of his program is to address the threat non-native fish pose to native fishes of the Gila River Basin. Prior to that he was the Aquatic Research Program Manager for the Arizona Game and Fish Department leading a team of people on a variety of research projects across the state.  Bill served as the President of the Arizona/New Mexico Chapter of the American Fisheries Society in 2014 and continues to be involved in the local chapter.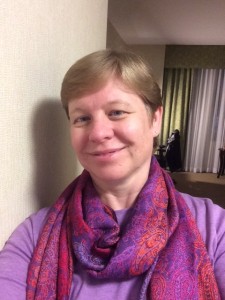 Pam Fuller is the program leader for the USGS Nonindigenous Aquatic Species Program which maintains a nationwide database and a web site of aquatic invaders.  She is author of the summary book "Nonindigenous Fishes Introduced into Inland Waters of the United States" which reviews the introductions of more than 500 species and looks at spatial and temporal patterns of these introductions.  She has been involved in numerous national and international invasive species research activities and work groups, particularly in the field of invasive species information management.  She has collaborated with the Smithsonian Environmental Research Center to develop NISbase – a distributed query system for aquatic invasive species databases and is involved in the development of a global equivalent – the Global Invasive Species Information Network.  (Click here to see the rest of her USGS biography.)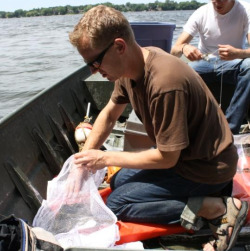 My current work focuses on understanding why some species of introduced fish become invasive and damaging in specific geographic regions, but not in others, and how this process might be controlled using integrated approaches. I study the effects of regional hydrology, climate, and native species diversity on the recruitment of invasive fish. I use telemetry to understand movement, reproductive strategies, seasonal aggregations and cognitive abilities of invasive fish to develop integrated and targeted management strategies. This process is guided by population dynamics models and is currently being tested in a model system of interconnected lakes. I have a strong interest in population dynamics, bioenergetics, and resource selection.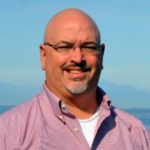 As the Program Manager for Aquatic Nuisance Species (ANS) and Aquaculture I have a wide a variable course of duties. As the lead for Asian carp work in Illinois, I oversee the Illinois contributions to the Asian Carp Regional Coordinating Committee (ACRCC) where multiple federal and state agencies collaborate to bring the best solutions to control and management of Asian carp with the overall directive to keep reproducing populations of Asian carp from Lake Michigan, and thus the Great Lakes Basin. Additionally, I serve as co-chair of the AIS Task force for Council of Great Lakes Governors (and Premiers), representative of the Midwest Governors Association, Illinois representative on the Mississippi, and Great Lakes panels on ANS.In addition to carp work, I strive to support relevant management and policy in regards to other ANS. Aquaculture duties revolve around permits and policy to maintain healthy Illinois aquatic life.
 
Kristopher Stahr is a Native Aquatic Research Biologist with the Arizona Game and Fish Department's Aquatic Research and Conservation Center. Kristopher's research focuses on improving the survival of imperiled fishes in the Southwest through novel methods to reduce predation from non-native predators. Previously, Kristopher worked with the Iowa DNR's Aquatic Invasive Species Program monitoring Asian carp in Mississippi and Missouri River tributaries. Contact him at the email address above for any website issues or questions.